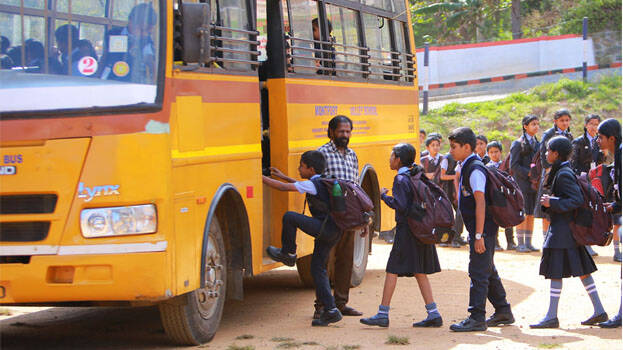 THIRUVANANTHAPURAM: The Transport Department has issued strict safety guidelines for the travel of children ahead of the opening of schools in the state from November 1. There are instructions for children and the drivers and attendants of the vehicle in which they are traveling.
The Transport Department has recommended that all students carry a hand sanitizer and that only one child per seat should be allowed to travel. The guideline also says that children should wear masks, do not touch each other and maintain social distance.
Bus drivers and attendants need to be careful. They must have taken two doses of the vaccine. Their temperature should be checked and recorded in the register. Do not allow students to travel with fever, cough or other symptoms. The guideline also states that the vehicle must be equipped with a sanitizer and a thermal scanner that measures body temperature.
Do not put seat covers or curtains on school vehicles. No AC either. The vehicle should be washed with disinfectant or soap every day after the journey. It must be ensured that contract vehicles are complying with such instructions. Officials from the Motor Vehicle Department should arrive at schools before October 20 to check the capacity of vehicles for children. The Department of Transport has directed that the vehicle should be allowed to use only after obtaining a fitness certificate after a trial run.