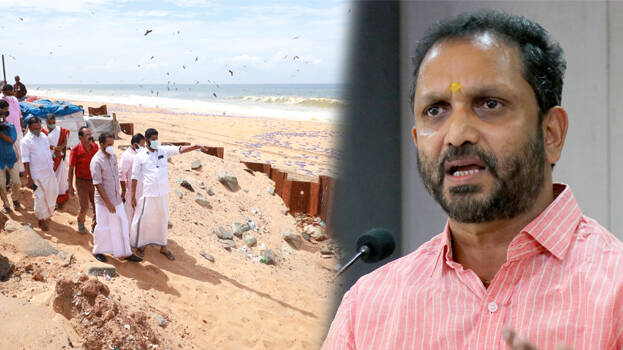 THIRUVANANTHAPURAM: BJP state president K Surendran said that Shangumugham Airport Road, which has been in ruins for months, is a replica of Kerala's development. After visiting the site, K Surendran said that the deplorable condition of the road to the airport in the capital is an insult to Kerala. Surendran said that there was criminal negligence on the part of the government in this regard.
Surendran blamed the state government for not being able to even build a road that would give wings to the development dreams of Thiruvananthapuram when the smart city, airport development and Vizhinjam project are being implemented in the capital with the help of the Centre. "The damaged airport road could not be repaired for months, tarnishing the image of Kerala. All the repairs done so far are unscientific. If the road is built as it is now, it will also harm the people", he added.
"Coastal residents are not even allowed to drive an autorickshaw to the hospital due to road works. The MP and the minister representing the constituency should respond to the plight of the people who voted for them. If no action is taken, the BJP will lead a strong protest along with the locals", Surendran said.
State vice president VT Rema, state secretaries S Suresh, Karamana Jayan, Vijayan Thomas, OBC Morcha national secretary Punchakari Surendran, district president VV Rajesh and film star Krishnakumar were present.