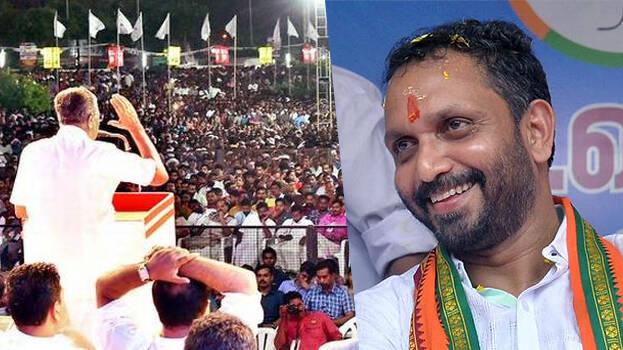 KOCHI: BJP state president K Surendran said that the ruling party, the opposition and the officials in Kerala are with the swindlers. "Monson Mavungal, the accused in the antiquities scam, has clear links with the state government, the opposition and officials. Every day new scams are surfacing", he said after inaugurating the lake cleaning at Udayamperoor Fisherman Landing Centre in Ernakulam.
"When the Prime Minister went to the United States and brought back the country's antiquities worth crores of rupees, the Kerala government supporting the thieves selling fake antiquities. The scam was not carried out by a single individual but with the knowledge of the government. There is no point in Kerala Police probing the accused who is associated with the DGP and ADGP. The current DGP said the case should be investigated by the ED. The Chief Minister should clarify whether he is aware of this", Surendran said.
"The government should explain why it did not take action despite Ahmed Devarkovil, the minister in charge of archeology, receiving an earlier complaint about the scam. The Home Department should answer the question as to why the top policemen remained close to him despite the police report that he is a fraud three years ago. While there is a strong movement against corruption all over the country, corruption is rampant in Kerala. Malayalees are the most deceived in the world. The reason for that is that all the scams here are under government protection. All cases are being dropped by the government. While Narendra Modi is leading the country, Pinarayi Vijayan is leading the state backwards", he added.
"The Prime Minister, Union Ministers, MPs and Chief Ministers of various states are moving forward as team India. But the government in Kerala is negative. The Pinarayi government is lead by opposite thinking at all levels. The Modi government is adamant that development should reach the poor. The central government is of the view that corruption should not take place. The Central Government is moving forward without exploiting nature. The Modi government envisioned Namami Ganga. All the rivers in the country are being cleaned. The Left government is diverting money from the Centre. The government in Kerala observed the World Tourism Day by holding hartals and causing inconvenience to the people", Surendran said.