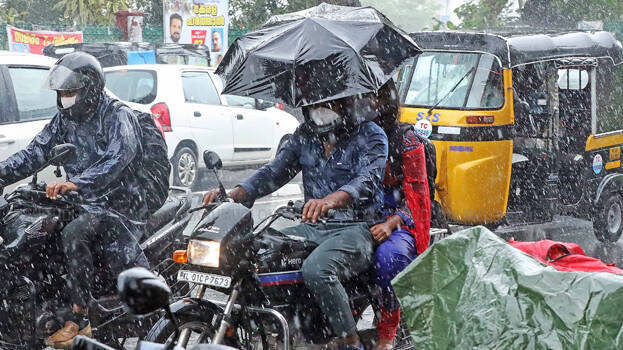 THIRUVANANTHAPURAM: There is a warning of heavy rains in the state today. Hilly areas are likely to get heavy rainfall and is expected to intensify at night. Orange alert has been sounded in Pathanamthitta, Kottayam, Idukki, Palakkad, Malappuram, Kozhikode, Wayanad and Kannur. Yellow alert has been issued in other districts.
As there are chances of mud and landslides in areas lashed by heavy rains the other days, the authorities have directed to be extra cautious. The Met Office has warned people living in low-lying areas and riverbanks to be extra vigilant. The monsoon was preceded by the onset of east winds on Tuesday and the formation of a cyclone off the coast of southern Tamil Nadu. The rain is expected to continue till Monday.
The warning said there are chances of thunderstorms and strong winds. Fishermen have been warned from going to the sea as strong winds are likely to lash. Heavy rains and landslides lashed many places last night but the rains had subsided by early morning. No deaths have been reported. More than 4,000 people are still living in relief camps following rain warning. The state government has made all arrangements for rescue operations in case of floods.