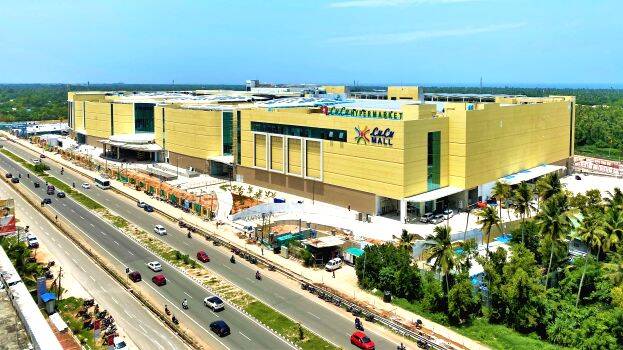 THIRUVANANTHAPURAM: Lulu Mall, which offers one of the largest shopping experience in the capital, will be inaugurated by Chief Minister Pinarayi Vijayan on December 16, MA Yusuff Ali informed. This is Lulu Group's second shopping mall in Kerala. Opposition leader VD Satheesan will preside over the function, which will be attended by Union Minister V Muraleedharan, state ministers, Shashi Tharoor MP, Deputy Leader of the Opposition PK Kunhalikutty, ministers from the Middle East and business leaders. Yusuff Ali added that due to Covid norms only those invited would be allowed to attend the inauguration ceremony and he regrets not being able to invite more people to the ceremony.
Lulu Mall in Thiruvananthapuram is one of the largest shopping malls in India, with an investment of Rs 2,000 crore. The main attraction of the mall is the 2 lakh sq ft Lulu Hypermarket. Other highlights of the mall situated in Akkulam include Lulu Connect, Lulu Celebrate, more than 200 international brands, 12 screen cinemas, the largest entertainment centre for children in 80,000 square feet, and a spacious food court that can seat 2,500 people.
Another attraction of the mall is its spacious parking facility, including an eight-storey multilevel parking lot that can accommodate more than 3,500 vehicles, including two-wheelers. This includes one thousand vehicles in the mall basement alone and an open parking facility for 500 vehicles. The mall is equipped with state-of-the-art Parking Management System and Intelligent Parking Guidance for easy access and exit of vehicles to the mall without any traffic jams.
The traffic impact study of the mall was done by Design International which prepared the blueprint of the mall. Lulu Thiruvananthapuram Regional Director Joy Sadanandan Nair said that all permits for the functioning of the mall have been obtained from various Central and State Government departments. The mall will be open to the public from Friday, December 17 for shopping, Lulu Group Communications Director V Nandakumar informed.