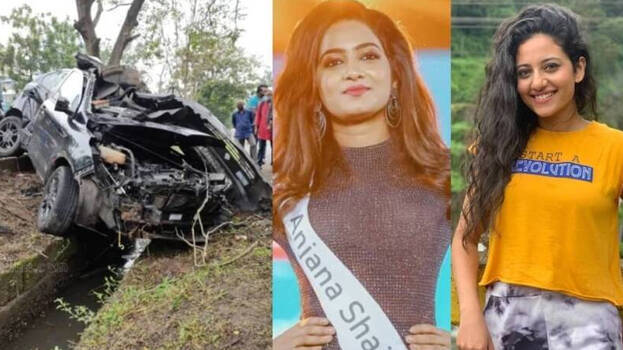 KOCHI: The family of Anjana Shajan, former Miss Kerala runner up, has lodged a complaint to the Kochi city police commissioner seeking a detailed probe on the death of their daughter and former Miss Kerala Ancy Kabeer. The role of Roy Vayalat, owner of No 18 Hotel in Fort Kochi and Saiju Thankachan, who followed the models, should be probed. The complaint lodged by Anjana's brother Arjun demanded to probe on who directed Saiju to follow them and what is the role of Vayalat in this. The police collected the statement of the family based on the complaint.
Meantime, the police are trying to recover the hard disc, a crucial evidence, which was thrown into Vembanad Lake. The scuba team of the fire force may conduct a search today or tomorrow under the Edakochi Kannanghat bridge. The hotel staff had asserted that the hard disc removed from the DJ party hall was thrown into the lake on the instructions of Valayalat. The police had collected evidence from the employees after bringing them to the Kannanghat bridge the other day. The aim is to find evidence that will determine the course of the case. Delaying the search will eliminate the possibility of recovering the hard disc.
The police are continuing questioning those attending the DJ party at Hotel No 18. The statements of more than 30 people, including young women, have been recorded. Almost 100 people had attended the party. Many names are not included in the hotel register. A search for them has begun. The probe is by a team led by district crime branch assistant commissioner Biji George. Metro SHO A Anandalal who probed the case earlier is the investigating officer.
The excise and customs are checking the phone calls of Saiju, a native of Kakkanad, who followed the car in which Ancy Kabeer and Anjana Shajan were travelling. They are examining his call details on the suspicion of his role in drug dealings. It is believed that Saiju is a native of Kottayam. He has been staying in Kakkanad for quite some time. A diploma in interior designing, Saiju is running a firm in Edapally. The police had quizzed the owner of the car driven by Saiju. His anticipatory bail plea is under the consideration of the high court.
The police have got the footages of the Audi following the car in which the models were traveling and reaching the spot within minutes of the accident. Someone was seen alighting from the car.