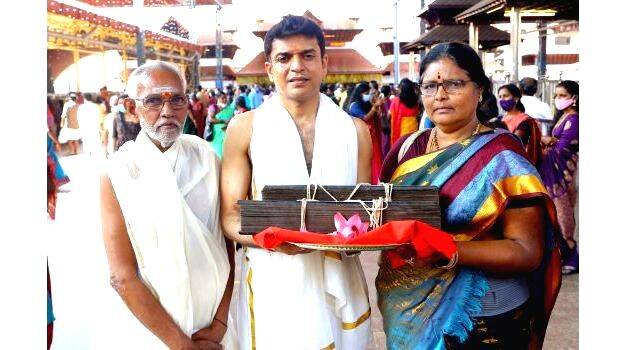 GURUVAYUR: The Krishnagatha and the Mahabharata written on palm leaves were presented to Guruvayur temple. The offered Krishnagatha is 193 years old and Mahabharata is 132 years old.
Harsha Vijay, a native of Hyderabad, and his wife Lakshmi Saraswathi presented manuscripts written in the old Malayalam script to Guruvayoorappan.
Harsha Vijay said that in 2020, one and a half feet long and four and a half inches thick palm leaves were bought from an antiquities dealer.
Krishnagatha is a devotional poem written by Cherusseri Namboothiri, an ardent devotee of Guruvayoorappan in the 15th century. A copy of this, that was presented to the temple, is thought to have been written in 1828. There are indications that a copy of the Mahabharata was written in 1889. Harsha Vijay had informed Devaswom chairman Adv KB Mohandas that he wanted the manuscripts to be submitted to Guruvayoorappan. Harsha Vijay, his wife Lakshmi Saraswati and children Gagana Priya, Meghanasudha, Ganesh and Bhanumathi visited Guruvayur and presented the manuscripts.