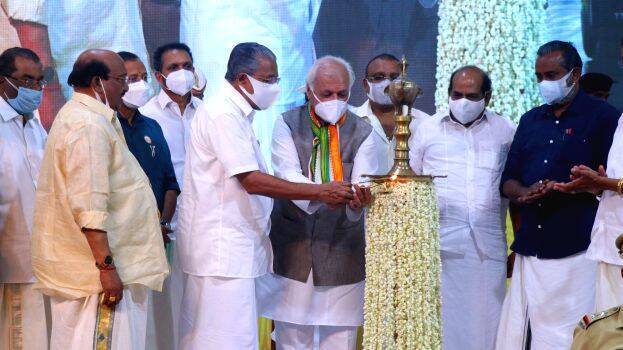 ALAPPUZHA: Governor Arif Mohammad Khan on Sunday said that Vellappally Natesan is a popular leader who implemented the teachings of Sree Narayana Guru in a beautiful manner. The governor said this after inaugurating the year-long celebrations and social welfare activities as part of Vellapally Natesan completing 25 years as SNDP general secretary and SN Trust secretary.
According to the governor, Vellappally Natesan played an important role in making the Sree Narayana Dharma Paripalana (SNDP) Yogam the strongest community organization by following Gurudeva's advice. "Special attention was paid to the development of educational institutions. Cherthala SN College is an example of this. Vellappally is a role model in the business sector. The teamwork in business management was successfully implemented in community service as well. Vellappally is known for his willpower, foresight, punctuality and practical intelligence. The power of the rural language is evident in his rhetoric. Though not a political leader, his leadership quality is a lesson for anyone. The knowledge garnered from the university of life and the
unwavering devotion to the Guru made Vellappally a living star. Vellappally's perseverance and ability to implement infrastructure development projects on time has been praised by several people, including 'Metroman' E Sreedharan.
Leadership is the ability to successfully implement an idea. Success comes from a combination of hard work, mental strength and determination. However, success and competent leadership come from a combination of hard work and god's grace. Vellappally is guided by a vision and determination to elevate and empower society through education. For this, he implemented an innovative model of economic empowerment and infrastructure development at the bottom level of SNDP, especially in the women's community. Talented leadership will always be reflected in the organization. Over the last 25 years, the number of SNDP Yogam branches has increased from 3,882 to 6,456. However, the biggest achievement is that the number of educational institutions under the Yogam has increased from 42 to 127. This growth signifies the SNDP Yogam leadership's commitment to Gurudeva's teaching to become enlightened through knowledge," the governor said. The governor also said that the Yogam should come forward to conduct counselling to develop the mental health of the youth and ensure social life.
Chief Minister Pinarayi Vijayan presided over the function. Yogam president Dr MN Soman lit the 'bhadradeepam'. Union Minister V. Muraleedharan, Minister P. Prasad, CPM state secretary Kodiyeri Balakrishnan and BJP state president K Surendran addressed the function. Yogam vice president Thushar Vellappally delivered the welcome speech while Devaswom secretary Arayakandy Santhosh delivered the vote of thanks. Vellappally Natesan's wife Preethi Natesan was also present on the occasion. Vellappally Natesan delivered the reply speech.
"Vellappally Natesan took the SNDP Yogam to greater heights while sticking to the concepts envisioned by Sree Narayana Guru. The Yogam had played a major role in the development of the state in various sectors," Chief Minister Pinarayi Vijayan said.