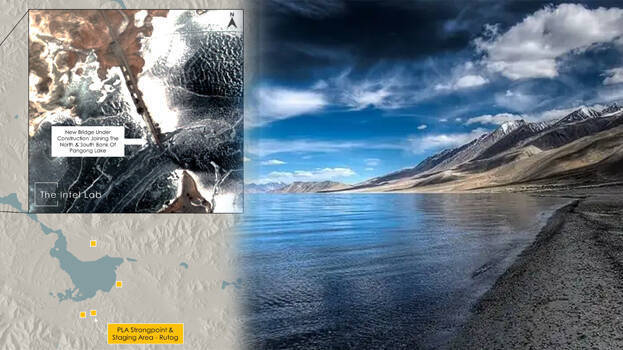 LADAKH: A recent report stated that China's People's Liberation Army (PLA) is constructing a bridge across the Pangong Tso lake in eastern Ladakh.
The bridge, which connects both banks of the lake, will give China the ability to transport its troops and weaponry more quickly. It was geo-intelligence expert Damien Symon who shared this information through his Twitter page. He has also tweeted pictures that support his claims.

China is constructing the bridge on its territory in Khurnak. It is learnt that the construction of the bridge is almost complete.
Last year, the Indian army had gained an early edge over Chinese troops in the area by moving atop the Kailash range on the south bank of the lake. With the completion of this bridge, China will have multiple routes to bring in more troops to the disputed area.
China has been focusing on strengthening its military infrastructure after Indian troops took control of several strategic peaks on the southern bank of Pangong lake in August 2020 after the Chinese PLA attempted to intimidate them in the area.
The eastern Ladakh border standoff between the armies of India and China erupted on May 5, 2020, following a violent clash in the Pangong lake area.
Both sides gradually enhanced their deployment by rushing in tens of thousands of soldiers as well as heavy weaponry.
As a result of a series of military and diplomatic talks, the two sides completed the disengagement process last year in the north and south banks of the Pangong lake and in the Gogra area.
Each side currently has around 50,000 to 60,000 troops along the LAC in the sensitive sector.