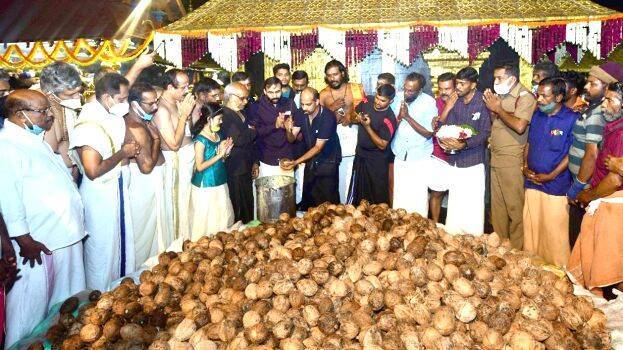 SABARIMALA: History was created at the Sabarimala Lord Ayyappa temple on Wednesday when the Ayyappa idol was anointed with ghee from 18,001 ghee filled coconuts. As these coconuts contained a total of nearly 2000 litres of ghee, the anointing lasted for an hour. The anointing, which started at 4.30 am on Wednesday, ended at 5.30 am.
Ten priests had taken several hours to fill the ghee in the coconuts. The coconuts, which were filled with ghee at the Pampa Ganapathy temple, were brought to Sannidhanam in tractors.

The anointing was performed under the supervision of Thanthri Kandararu Mahesh Mohanaru. The offering was made by Vishnu Sharan Bhatt, a Malayalee businessman from Bengaluru. He offered 18001 coconuts.