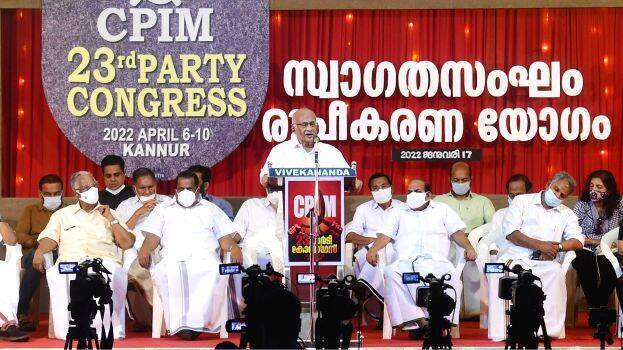 KANNUR: CPM politburo member S Ramachandran Pillai said that the activities of the Communist Party in Kerala are a great lesson to the world. He said this after inaugurating the organizing committee meeting of the CPM party congress in Kannur.

"The CPM has been adopting a method of interacting closely with the people, identifying their problems and finding solutions to them. Now, the party should strengthen its functioning at the grassroots level by considering each house as a committee," he said.
"At the national level, only secular forces will be able to stop the BJP. The Congress can never become an alternative for the BJP. It is necessary to strengthen the unity of the opposition parties at the national level," SRP added.
Organizing Committee formed
S Ramachandra Pillai on Monday inaugurated the Organizing Committee Meeting of the 23rd CPM Party Congress, which will be held in Kannur from April 6 to 10. In addition to the CPM leaders, writers, priests and saints were also present at the meeting. A 1001-member General Committee was formed with Chief Minister Pinarayi Vijayan as chairman and CPM state secretary Kodiyeri Balakrishnan as general convener. A 201-member welcoming group was formed with central committee member EP Jayarajan as chairperson. 27 sub-committees were also formed. Kodiyeri Balakrishnan presided over the meeting. CPM central committee members PK Sreemathy, minister MV Govindan, A Vijayaraghavan, P Karunakaran, writer T Padmanabhan, Swami Krishnanandabharathi, Kannur diocese bishop Dr Alex Vadakkumthala, Kasargod district secretary MV Balakrishnan, Kozhikode district secretary P Mohanan, TP Ramakrishnan, Gemini Shankaran, Film Akademi chairman Ranjith, Congress S state president Ramachandran Kadannappally MLA, Kannur district secretary MV Jayarajan and P Jayarajan attended the event.
Central Committee Member EP Jayarajan delivered the welcome speech. CPM state secretary Kodiyeri Balakrishnan will inaugurate the office of the welcoming team on Tuesday at 10.30 am near Caltex. EP Jayarajan will unveil the logo of the conference at 11 am tomorrow. The party congress will take place at the Kannur Nayanar Academy.