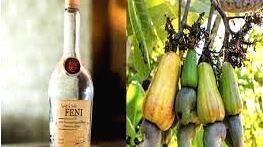 KANNUR: The Kerala Cashew Development Corporation's initiative to produce liquor (feni) from cashews on the Goan model has reached the final phase. Officials are hoping that they will get permission from the government this month. The factory will be located on 2.5 acres of land of the Corporation at Chombala in Vadakara. The factory will be set up here considering the fact that there are a large number of cashew farmers in Kannur and Kasargod.
Cashew is an inexpensive crop that can grow on barren land. It does not require water or manure. One will get around Rs 140 for 1 kg of cashew nuts. Up to 10 kg of cashew nuts can be obtained from a single tree. Harvesting can be done for 30-35 years. Nutritious cashews are getting rotten in the orchards. The price of cashew will also go up if Feni production is started. Cashew cultivation will also increase. The project will be of great benefit to farmers and entrepreneurs.
Cashew cultivation in Kannur and Kasargod
About 60% of the cashew nuts produced in Kerala were in Kannur and Kasaragod districts. In 2004-2005, there were 41,022 hectares under cultivation in both the districts. It has now been reduced to 39,068 hectares. This is due to volatile prices and a lack of encouragement from the government. The cashew nuts cultivated here are of the highest grade in the world.
Cultivation on one lakh hectares
Rs 3 crore: Cost to start the company
100 people to get employment in initial stage.
1 lakh hectares: Cashew cultivation in the state
82,000 tonnes: Cashew production
50,000 tonnes: edible cashews
2750 tonnes: liquor that can be produced from it.