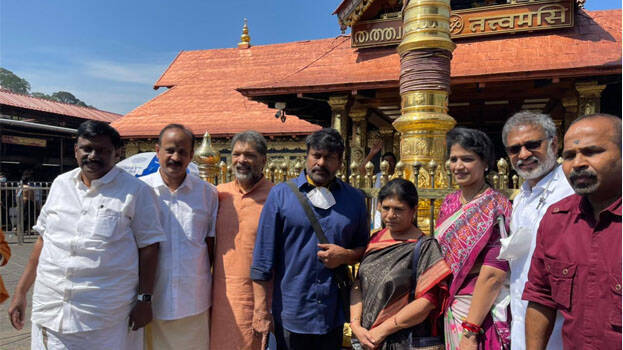 THIRUVANANTHAPURAM: R Ananthagopan, president of the Travancore Devaswom Board, said that it was not a young woman who visited Sabarimala with Telugu megastar Chiranjeevi, but the wife of an industrial group owner. Ananthagopan said that the authorities had checked her identity card before allowing her to enter the temple.
He said that there was a lot of false news and propaganda on social media about Chiranjeevi's visit. On February 13, Chiranjeevi and his team reached Sannidhanam.
The group comprised Chiranjeevi, his wife, Phoenix Group chiefs Chukkapalli Suresh, Chukkapalli Gopi and their wives. With the photos of Chiranjeevi and the group visiting Sabarimala going viral on social media, several people pointed out that a woman below 50 years was allowed to visit Sabarimala. With the issue becoming a controversy, Ananthagopan came out clarifying that Madhumati Chukkapalli, wife of Chukkapalli Suresh, was above 55 years.
"As per the identity card produced by Mrs Madhumati Chukkapalli, her date of birth was 26/7/1966(55 years). According to custom, she is not barred from visiting Sabarimala. We will lodge a complaint with the police against those who are making unnecessary allegations," Ananthagopan said.