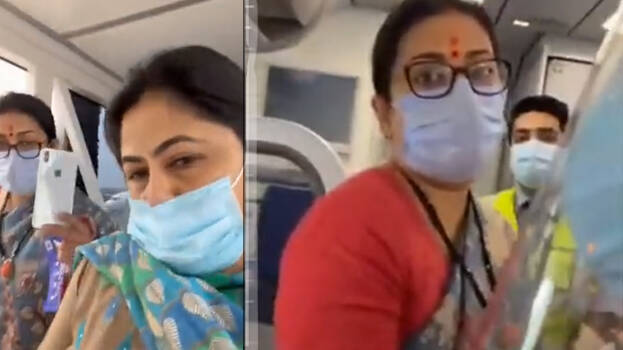 NEW DELHI: Opposition parties across the country are protesting against the central government in the wake of rising fuel prices. Union Minister Smriti Irani also faced protests during the flight. Netta D'Souza, acting chief of Mahila Congress, who boarded the plane with the minister confronted her. The incidents started on the Delhi-Guwahati flight.
Netta, who spoke to the minister about fuel prices and LPG price hike, posted a video of the dispute between the two on Twitter. D'Souza asked the Union Minister about the rising prices of LPG, to which Irani said that the Centre has been helping the poor through various welfare programmes."The government is giving free rations to the countrymen, free vaccines to 1.83 billion people," Irani is heard saying in the 1:11 minute-long video. While the Mahila Congress president kept on asking questions to the minister, Smriti Irani kept her cool, saying that D'Souza was blocking other passengers. Asked about the shortage of cooking gas and stoves without gas, the minister says, "Please don't lie"."I'm being accosted," the Union Minister can be heard saying.
Despite the sharp fluctuations in international crude oil prices, the country has not seen a rise in prices for four months. But after the elections in five states, there was a daily increase in prices. Meanwhile, Union Petroleum Minister Hardeep Singh Puri had said that India had seen a 5 per cent increase in prices during the Russia-Ukraine war, despite sharp increases in other countries.