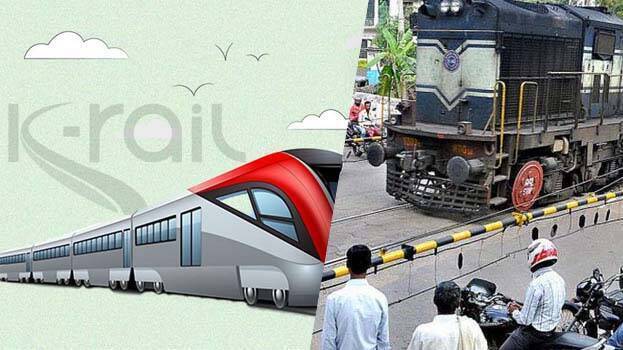 THIRUVANANTHAPURAM: The Railway Board has given permission to the Kerala Railway Development Corporation (K-Rail) to construct flyovers at railway level crossings at 27 places in the state. The state government and the Union Ministry of Railways had given permission on July 9, 2021, for the construction of flyovers at level crossings in Kerala. On September 1 last year, K-Rail was given permission to build five flyovers.
The flyovers that were given permission in the first phase are- Palli Gate/Church Gate between Puthukkad and Irinjalakuda, Thripakudam gate between Ambalapuzha-Harippad, Pattikad gate between Angadipuram-Vaniyambalam, Nilambur yard gate and Ezhimala gate between Pazhayangadi-Payyanur. The social impact study prior to acquiring land for seven flyovers, including these five, has been completed and the reports have been submitted to the respective district collectors. The construction permit for the remaining 22 flyovers has now been obtained.
The cost of construction of the flyovers will be borne equally by the Railways and the state government. The railway overbridges are a major development project being implemented by K Rail in addition to the SilverLine project.
New railway flyovers
1) Puthukad -Irinjalakuda- Palli Gate/Church Gate
2) Ambalapuzha-Haripad- Thripakudam Gate
3) Angadipuram-Vaniyambalam- Pattikkad Gate
4) Payangadi-Payyanur- Ezhimala Gate
5) Nilambur Yard- Nilambur Yard Gate
6) Cheppad-Kayamkulam- Kakkanadu Gate
7) Shoranur-Angadipuram- Cherukara Gate
8) Thanur-Parappanangadi- Chiramangalam Gate
9) Payyannur -Trikkaripur- South Thrikaripur Gate
10) Uppala-Manjeswar- Uppala Gate
11) Parali-Mankara- Mankara Gate
12) Mulangunnathukavu-Punkunnam- Attor Gate
13) Ollur-Puthukkad- Ollur Gate
14) Kurupanthara-Ettumanoor- Kothanalloor Gate
15) Karunagappally-Sasthamkotta- Idakulangara Gate
16) Kadakaur-Murukkumpuzha- Azhoor Gate
17) Kollam- Mayyanad- Polayathod Gate
18) Payyanur-Trikkaripur- Olavara Gate
19) Kayamkulam-Ochira- Thamarakulam gate
20) Pappinisseri - Kannapuram- Kannapuram Gate
21) Kannapuram - Payangadi (KAN - MAN) Cherukunnu Gate
22) Shoranur-Vallathol nagar- Painkulam gate
23) Kozhikode-Kannur- Vellayil Gate
24) Mahe-Thalassery- Makutam Gate
25) Thalassery-Ettakot- Muzhupilangadu beach Gate
26) Ettakot-Kannur - Kannur South Gate
27) Kannur-Valapattanam-Pannanpara Gate