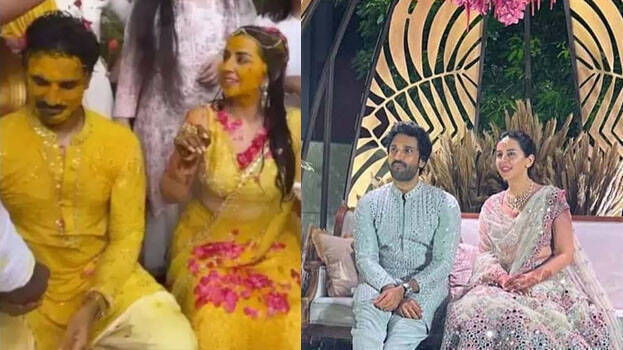 Actors Nikki Galrani and Aadhi Pinisettty are husband and wife now. Only close relatives and intimate friends attended the wedding held in Chennai. The wedding was as per Hindu tradition.
The videos and pictures of the celebrations prior to the weddings are going viral. The video shows Aadhi's close friends and actors Nani and Sandeep Kishan dancing to the song Aluma Doluma at the mehndi ceremony. Actors Arya and his wife Sayesha attended the party held in the evening.


Nikki and Aadhi have been dating for quite some time. The couple got engaged in March. Nikki started her film career through the Malayalam film 1983 released in 2014. She later acted in Malayalam films like Vellimoonga, Oru Second Class Yatra, Ivan Maryadaramam, Rudra Simhasanam, Rajamma @ Yahoo and Dhamaka.
Aadhi made his acting debut in 2006 in the film directed by Teja. He is currently busy with Linguswamy's bilingual film Warrior.