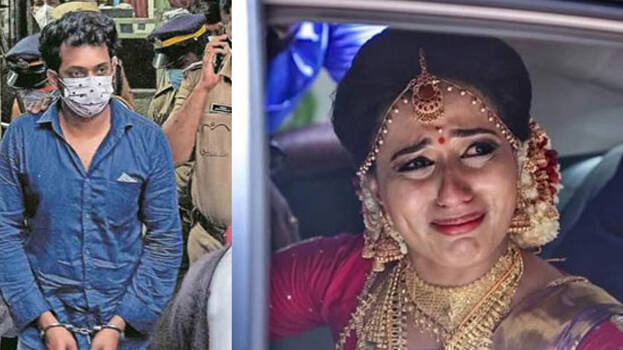 KOLLAM: The court will pronounce the verdict in Vismaya case on Monday. The verdict will be pronounced by the Kollam additional sessions court by 11 am. Vismaya's husband Kiran Kumar has been charged under various IPC sections on offenses of dowry death, dowry harassment, abetment to suicide, voluntarily causing harm and criminal intimidation, which could land him in prison for up to 10 years.
According to the prosecution, Kiran had regularly tortured Vismaya with the intention of abetting her to suicide. The verdict is being pronounced within a year of Vismaya's death. Vismaya was found hanging inside a toilet nearby the bedroom at Kiran Kumar's house in Sasthamkotta on June 21, last year.
Kiran Kumar, who went into hiding after taking Vismaya to the hospital, surrendered at the Sasthamkotta station around 8:30 pm on June 21. He was later dismissed from service in the Motor Vehicles Department (MVD). The investigation was completed within 90 days under the supervision of IG Harshita Atalloori and the chargesheet was filed on September 10. The trial began on January 10 and was completed on May 18. The Supreme Court had granted bail to Kiran a month ago as the trial was nearing completion.
Digital evidence will prove to be decisive in the case. The pictures and WhatsApp chats about the abuse, which Vismaya had sent to her classmate and sister-in-law, had surfaced earlier. The audio recording of Vismaya telling her father about the torture she faced from Kiran, was released the other day. 'If you all go leaving me here, you will not see me again, I can't bear it anymore dad, I am scared', Vismaya said. Though this audio appeared before the court during the trial, the media received it only on Sunday. This conversation between Vismaya and her father took place on the ninth day after her marriage.
Torture over car too
The duo got married on May 31, 2019. The prosecution argued that the torture was over a car, which was given as dowry. As per witness testimonies, in addition to the torture at their house, Kiran Kumar had created trouble in public on August 29, 2020 at Chittumala and on January 3, 2021 at Vismaya's house in Nilamel, demanding the car to be replaced. The court has also accepted the phone chats, related to dowry disputes, as evidence.