Actress Durga Krishna says that women are being portrayed as the culprits in the society when it comes to acting in intimate scenes. The actor's reaction was at a press conference held as part of the movie 'Udal'.
"I'm not doing this scene alone. But we are portrayed in a bad light. Such criticisms come from outside the film.", she said.
"People inside the movie know that this is for that movie. We do not demand this scene for pleasure. That's for the cinema. That's what it does. With the release of 'Udal' teaser, I received messages from many angles. Many wanted to know if I was the one who acted in the intimate scenes. But with the release of the film, people are not talking about those scenes, they are talking about the film.", she added,
"The actress who survived the assault is an inspiration to all girls. That problem arose when I came to the movies five years ago. Many people have had to remain silent in many situations.", she added.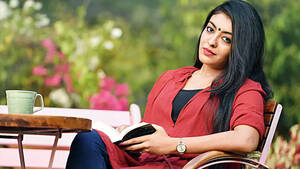 "That person is an inspiration to everyone like us. If I gets a good story and character in a Dileep film, I will let aside personal issues and act. Let him be punished if he has committed wrong. ", she said.