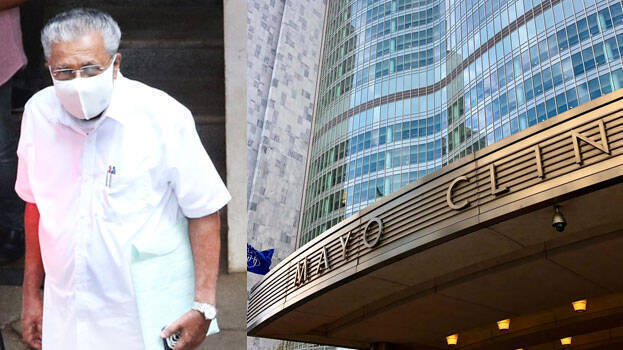 KOCHI: Mayo Clinic where Chief Minister Pinarayi Vijayan sought treatment in America, has made a major investment in the Indian company Karkinos, an oncology health care platform. The amount invested has not been revealed. Karkinos is a technology based organisation providing research in cancer and care facilities across the country including in Kerala.
Dr Moni Kuriakose, a Malayalee, is the co-founder and medical director of Karkinos. Many including Ratan Tata has major investments in Karkinos Healthcare headquartered in Mumbai. Mayo's investment will be used to develop new systems for cancer care. The board of directors of Karkinos will also include a representative of Mayo Clinic.

Mayo Clinic in the United States gained attention in Kerala after Pinarayi Vijayan sought treatment there twice. He underwent treatment in Mayo Clinic last month also.
Lab of Rs 100 crore in Kochi
The goal of Karkinos is to detect cancer early using advanced technology, provide effective treatment at low cost and research. Work has started on setting up a most modern laboratory at Kaloor in Kochi at a cost of Rs 100 crore.

World class treatment facility will be arranged here. Karkinos has cancer treatment centres in Ernakulam, Kothamangalam, Munnar and Thodupuzha. The objective is to open cancer care and research centres across the country.
Prominent investors
Ratan Tata is the main investor in Karkinos with an investment of Rs 100 crore. Biotechnology company Rakuten, Reliance Digital Hub, entrepreneurs Venu Srinivasan, Kris Gopalakrishnan, Ronnie Screwvala and Shekar Sharma have also invested.

R Venkataraman, who had served in Tata Group for a long time, is the founder and CEO of Karkinos. Ravi Kant, former managing director of Tata Motors, management expert Sunder Raman and Dr Shahveer Suryedhan are the co-founders.