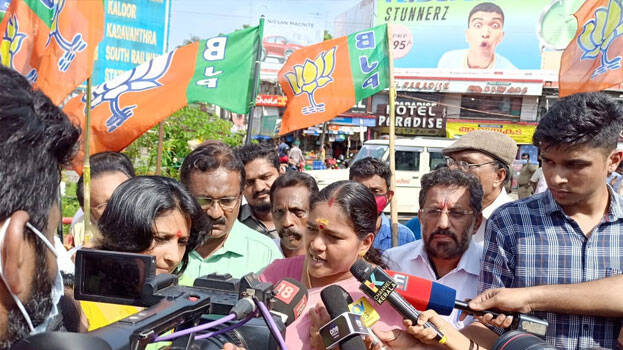 KOCHI: BJP leaders had come out in support of PC George, who came to surrender at the Palarivattom police station in connection with a hate speech case. In an ensuing scuffle, there was pushing and shoving between the police and BJP workers. In this, a conversation between Assistant Commissioner and Sobha Surendran is getting attention on social media.
Assistant Commissioner told Sobha Surendran that the road is getting blocked following the BJP's protest and that it should be disbanded. The BJP leader then told that they are not going to leave and had decided to stay. The commissioner's reply is of sarcastic nature as he said, "Then you need not stand in the sun, I'll arrange a chair".
Meanwhile, PC George, who surrendered to the police, was taken to Thiruvananthapuram to register his arrest. Shone George, son of PC George, said he would approach the Supreme Court against the cancellation of bail. He also alleged that the action against PC George was with a view on the upcoming Thrikkakara by-election.