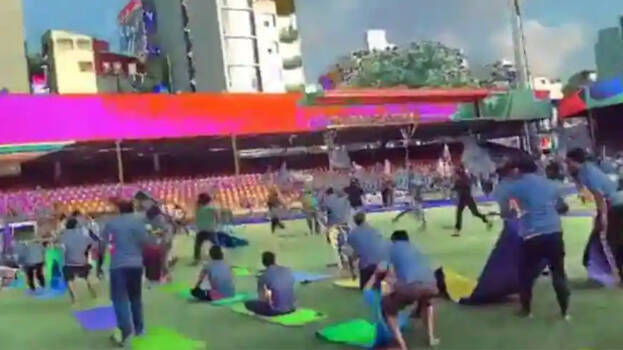 MALI: An unruly mob disrupted an International Day of Yoga event held in Maldives on Tuesday. The programme was organized jointly by the Indian High Commission in Maldives and the Ministry of Youth, Sports and Community Empowerment and UN, Maldives. A mob barged into the Galolhu stadium where people were performing yoga. No casualty has been reported.
Dignitaries like Maldivian Minister of Youth and Sports, Indian High commissioner, Maldives Foreign Secretary, many high commissioners and UN resident coordinator were in the stadium attending the yoga. The programme continued after evicting the mob.


Maldives President Ibrahim Mohamed Solih announced a probe on the incident that happened this morning at Galolhu Stadium.

Although no one has yet claimed responsibility for the incident, former Maldivian President Yameen and his party, the PPM, are said to be behind the incident. Yameen is known for his anti-India stance.