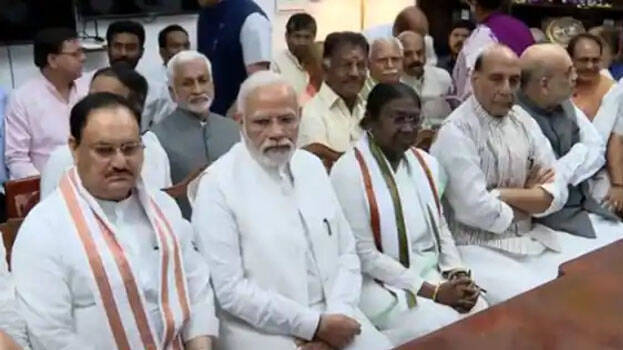 NEW DELHI: Droupadi Murmu, the NDA candidate for the presidential polls filed her nomination papers. The nomination papers were handed over to the returning officer P C Mody at 12.30 pm.
A long line of national leaders of the NDA reached Room No 29 in Parliament to witness and support the event. Droupadi Murmu was accompanied by Prime Minister Narendra Modi, Home Minister Amit Shah, Defence Minister Rajnath Singh, BJP national president J P Nadda, union ministers, leaders of various parties and chief ministers of BJP-ruled states.
Modi handed over the set of nomination papers to the returning officer. 50 leaders of various parties supported it. Leaders of Janata Dal, BJD, ADMK had reached there. Her win is almost sure as even leaders whose support was not sure declared their support at the last minute.
Before filing the nomination papers, she paid floral tributes on the statue of Gandhiji. She later went to the office of the Prime Minister. She filed the nomination papers after accompanied by national leaders. Yashwant Sinha is the candidate of the opposition parties. The polling will be held on July 18.