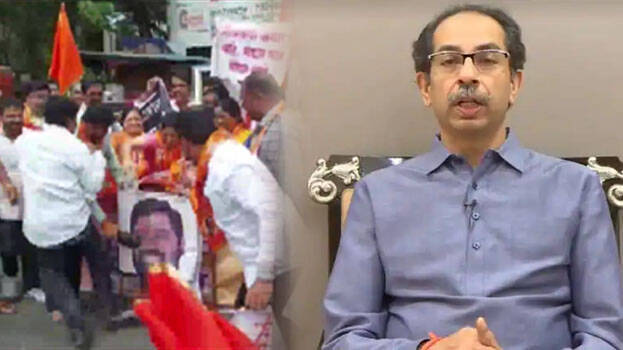 MUMBAI: Uddhav Thackeray faction is taking the last effort not to lose power in Maharashtra which is in a state of crisis. Despite a majority in the party, there are indications that Uddhav Thackeray is still acceptable among party workers. Shiv Sena activists have launched various protests against dissident MLAs supporting Eknath Shinde. Protests were staged in many parts of the state. The function was organised in Pune. Shinde camp is meeting at a hotel in Guwahati. Security has been beefed up at the office of Shinde in Kalyan. The office of Shinde's son and Parliament member Sreekant Shinde was vandalised the other day.

Shiv Sena staged a bike rally in Mumbai against the rebel MLAs. The Shinde camp is planning to question Uddhav Thackeray's move to replace Shiv Sena leader in court. The Shinde camp said Uddhav's move is illegal. Meantime, BJP Gujarat president Chandrakant Dada Patil said that he has no idea what is going on in Maharashtra. Patil said he is monitoring the political situation in Maharashtra.

Meantime, the Shiv Sena has launched a new operation to tame the MLAs who are at loggerheads with the party leadership. A decision was taken to meet the wives of the rebels in person, convince them and then make them talk to their husbands. Rashmi Thackeray, wife of Maharashtra Chief Minister Uddhav Thackeray, has been assigned for it.
The party leadership hope that the rebels, presently staying at a luxury hotel in Guwahati, will be brought to the state. Eknath Shinde left the state with a majority of Shiv Sena MLAs after the MLC election results in Maharashtra. The group first went to Gujarat and then to Assam. With each passing day, more and more MLAs, including independents, joined the rebel camp.
Out of the total 287 members in the Maharashtra Legislative Assembly, requires 144 to prove majority if a vote of confidence is held. The ruling Shiv Sena, NCP and Congress have 169 seats. However, if the MLAs under Sinde resign, the government will have to step down. That is why the Shiv Sena has come up with a new tactic to change the minds of the dissident MLAs with Shinde and keep the government in power. Uddhav Thackeray is also reported to have sent personal messages to some dissident MLAs in a camp in Guwahati.