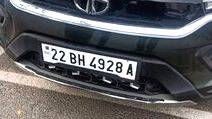 THIRUVANANTHAPURAM: Kerala will also implement the Bharat (BH) series registration, which provides number plates that are valid anywhere in the country. The state has received legal advice that the central government's amendment cannot be violated.
Kerala had not implemented the Centre's order even after 10 months, considering the tax loss that could occur that could follow its implementation. Around 18 states, including Tamil Nadu and Karnataka, had implemented the scheme. However, Kerala's aim was to delay the registration and collect as much revenue as possible.
The high court had passed an interim order on March 29, directing to implement the BH series registration. As the order was not followed, the court directed to implement it within May 17.
The central transport department had passed the BH registration law on August 28, 2021. The registration began on September 15. Earlier, the Centre had rejected the state's letter to temporarily stop the registration.