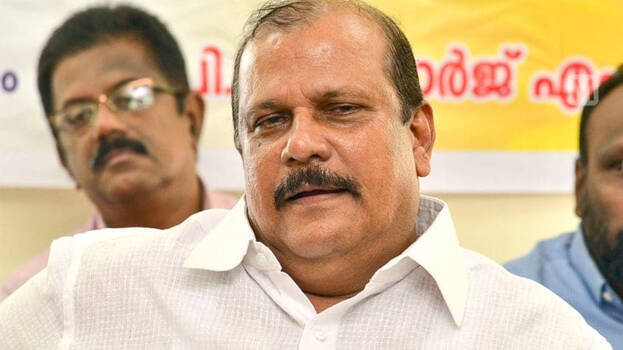 THIRUVANANTHAPURAM: Janapaksham leader PC George has been granted conditional bail in the sexual harassment complaint. It was the Thiruvananthapuram First Class Magistrate Court - 3 which granted bail to George.
Earlier, the prosecution argued that PC George, who is currently accused in nine cases, should not be granted bail. The prosecution argued that the accused may try to influence the witnesses if he gets released on bail. It also pointed out that George, an accused in several cases, had violated the bail conditions several times.
P C George was arrested by the Museum police on a sexual harassment complaint lodged by an accused in the solar scam case. He was arrested on grounds of insulting womanhood. The case was registered at 12:10 pm on Saturday.
According to the complainant, P C George had called her to his guest house in Thycaud, groped her and sent obscene messages to her phone.
George had been questioned by the police in connection with a case of trying to create a riot by making false statements against the chief minister in the gold smuggling case. Soon after the interrogation, he was arrested by the police.
However, George told the media that he has not done any wrong and will prove not guilty.