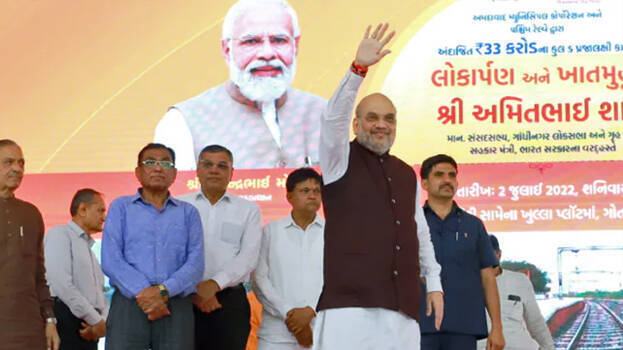 HYDERABAD: The resolution passed by the party at the national executive meeting held in Hyderabad is hopeful that the future of the BJP will be bright in the coming days. Through the resolution, the party is optimistic that the government will be formed in states like Kerala, Bengal and Tamil Nadu that are slipping without giving the party a grip, and that it will end family rule and come to power in Andhra Pradesh, Tamil Nadu and Odisha. Union Home Minister Amit Shah presented the political resolution in the meeting.
The Home Minister said that the success of the BJP in the recent elections and by-elections in the country is an endorsement of the party's politics of development and performance by the people and the politics of nepotism, casteism and favoritism should end.

Speaking about the killings in Rajasthan's Udaipur and Maharashtra's Amaravati over blasphemy remarks, Amit Shah said communalism would end with the end of appeasement politics. During the meeting, Shah said that the Supreme Court judgment rejecting the plea of Zakia Jafri, wife of slain Congress M P Ehsan Jafri, challenging the SIT proceedings that acquitted Narendra Modi, who was Chief Minister during the Gujarat riots, was historic. He opined that Prime Minister Modi remained silent when he was questioned about his role in the riots and kept his faith in the Constitution by drinking poison like Shiva.
Meantime, Amit Shah harshly criticized Rahul Gandhi. After the Enforcement Directorate summoned Congress leader Rahul Gandhi in the National Herald case, the Congress tried to spread anarchy in the country. Congress became a party of one family and did not allow internal organizational elections because they were afraid of losing control of the party. Meantime, Amit Shah said that the next 30 to 40 years will be the era of BJP in the country and that India will become a 'Vishwa Guru' during this period.