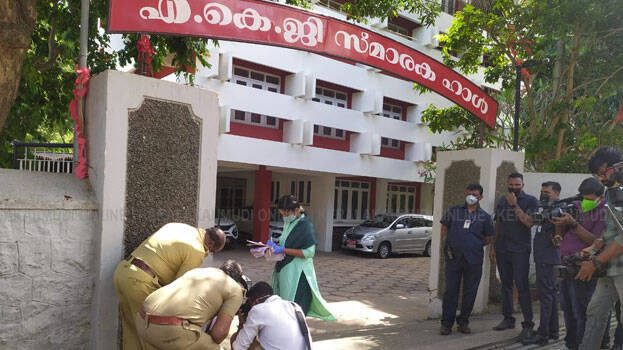 THIRUVANANTHAPURAM: Eight policemen of the strike force, who were in charge of security while the bomb was hurled at the AKG Centre, are likely to be suspended. Ahead of which, city police commissioner G Sparjan Kumar has ordered a department level inquiry into the incident.
There were eight policemen, led by a sub inspector, near the AKG Centre's front gate, while a youth who arrived in a scooter, hurled an explosive at around 11:30 pm on last Thursday. However, even after hearing the sound, the policemen did not realize that it was a blast. The explosion was confirmed after examining the CCTV footage at the AKG Centre. Meanwhile, the accused had escaped. The police were unable to nab or follow the accused, who fled in a scooter. Earlier, the special branch assistant commissioner had submitted a report seeking a detailed investigation into the police' fault.
Meantime, the police were unable to find the accused even after five days into the incident. Numerous people were questioned, but to no avail. A person, who was found in a suspicious scenario in the area, was questioned and released, last day. The bail of Anthiyoorkonam native Riju Sachu, who was arrested for posting, about hurling stones at AKG Centre on social media, has also been a setback. Until last day, the police had said that the explosives were handed over to the assailant by some other person. However, according to their current stance, the assailant was alone and did not have an accomplice.
As per the CCTV visuals, the accused had reached Pottakuzhy, around four kilometres away, in a scooter. The police, who had earlier claimed to have identified the vehicle number, now state that it was not clear.