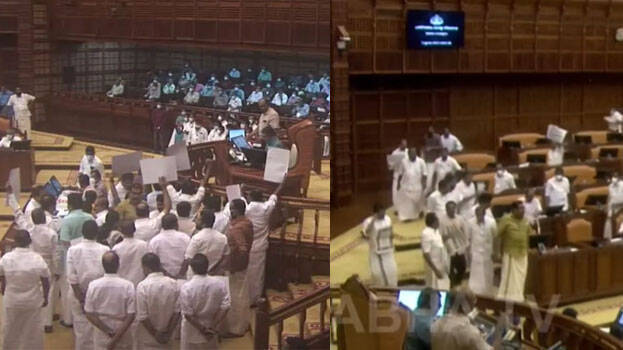 THIRUVANANTHAPURAM: The opposition disrupted the assembly proceedings demanding the resignation of Minister Saji Cheriyan for his controversial anti-Constitution remarks. The assembly was adjourned for the day minutes after the question hour started.

The opposition was creating an uproar as soon as the question hour started. They raised slogans against the minister without raising questions. Soon the opposition trooped to the well of the house. The assembly was convened only for eight minutes. The visuals of the protest were not shown on assembly TV.

The opposition MLAs came to the assembly with placards of slogans. Amidst sloganeering, the Speaker asked the opposition to raise a question, but they did not relent. In the meantime, the Speaker unexpectedly announced that the assembly is being adjourned for the day. After the assembly was adjourned, the opposition also protested at the entrance of the assembly.

Meantime, the minister's speech at a public event is heading for legal embarrassments. Governor Arif Mohammed Khan responded that the chief minister has sought an explanation from Saji Cheriyan and expect him to take an amicable decision.