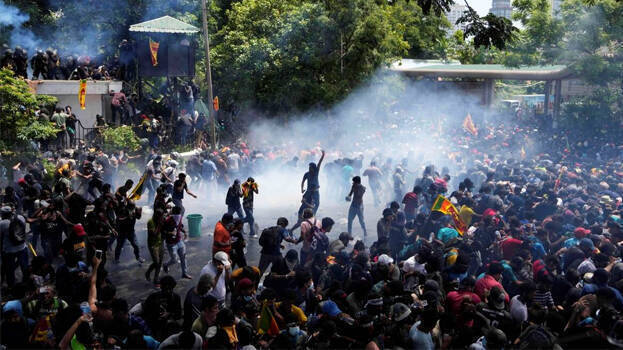 COLOMBO: Emergency declared by Acting President Renil Wickremesinghe is continuing in Sri Lanka. There are also reports that a student was killed amidst protests. A military operation to vacate the prime minister's office occupied by the protesters failed.
The army who clashed with the protesters, fired tear gas, used water cannons and shot in the sky. It is indicated that the agitation will spread to more government offices. Acting President Renil Wickremesinghe has given permission to the army to do anything to restore peace and order in the country.
President Gotabaya Rajapaksa is now in Male, the capital of Maldives. Reports said that he has requested the Maldivian government to arrange a private jet for him to fly to Singapore. It is hinted that he will send his resignation letter to the Speaker after reaching Singapore.
The opposition parties in Male staged protests against granting of shelter to Rajapaksa. He decided to fly to Singapore because of this. Rajapaksa arrived in Maldives in a military flight yesterday morning. His wife Loma and two bodyguards accompanied him.