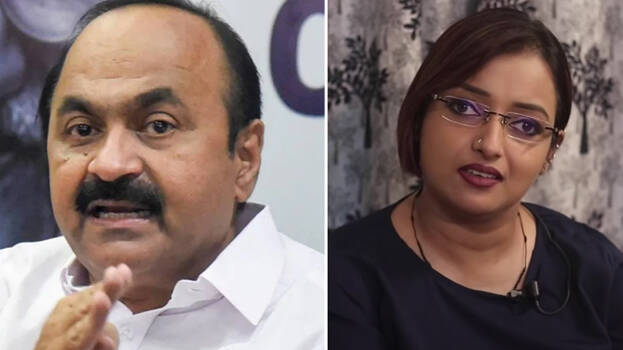 KOZHIKODE: Opposition leader VD Satheesan on Friday said that the credibility of Swapna Suresh, accused in the gold smuggling case, has increased. "Satheesan said that the claims of Swapna are not mere allegations and the release of the letter against 'Madhyamam' is a proof of this. Jaleel's admission of having a personal relationship with Swapna is a serious situation", Satheesan said.
Yesterday, Swapna Suresh came forward with a serious allegation of illegal activities when KT Jaleel was a minister. Swapna also alleged that Jaleel misused the UAE consulate to influence the party and conduct illegal business through diplomatic channels.
Swapna's allegations
Jaleel said that he wanted to help win the favour of the UAE ruler and that many things could be done through the diplomatic channel. He told this to the Consul General. The Consul General replied that Jaleel had agreed to secure the support of the Chief Minister and the ruling party for his illegal businesses through the diplomatic channel. He explained that there is a plan to start businesses with Jaleel inside and outside Kerala and for this Jaleel should come in the UAE ruler's good book. After that, I helped write a letter to Sheikh Khalifa bin Zayed Al Nahyan, the ruler of the UAE.
Jaleel's email to the consulate could not be opened due to technical reasons. When Jaleel's constant calls to ask about the letter became annoying, the Consul General suggested to intervene. A copy of the letter was suggested to be sent on WhatsApp. The language and content of the letter were deemed not suitable for addressing the ruler and some modifications were suggested.
Jaleel was trying to fool the ruler for political gain. Jaleel's writing to the UAE ruler against Indian citizens in the name of protecting UAE's interest while he was a minister is a breach of oath and anti-national.