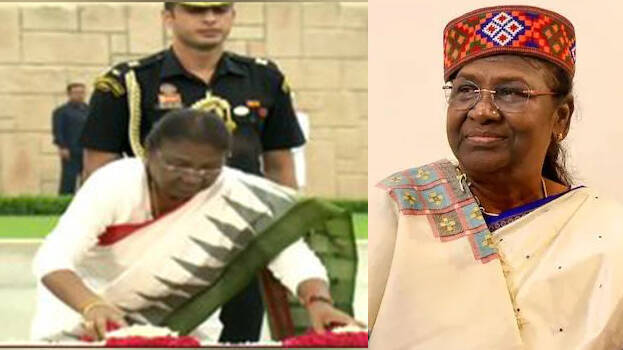 NEW DELHI: Draupadi Murmu is set to take oath as the 15th President of India on Monday. She paid floral tributes to Mahatma Gandhi at Raj Ghat in the national capital. The lessons given by Gandhiji are an inspiration for every step forward and will move ahead through his ideas, Murmu said.
The swearing-in ceremony will take place at 10:15 am in the Central Hall of Parliament. The oath of the office of the President will be administered by Chief Justice of India (CJI) N V Ramana. Prominent leaders, including Vice-President and Rajya Sabha Chairman Venkaiah Naidu, Prime Minister Narendra Modi, Lok Sabha Speaker Om Birla, union ministers, chief ministers, governors and MPs, will attend the ceremony.
The incumbent President Ram Nath Kovind will arrive at the Central Hall at 9:20 am on Monday. After two minutes, Draupadi Murmu will reach the north court. She will receive salute from the bodyguards at 9:37 am. Kovind and Murmu will arrive at the Durbar Hall at 9:42 am. Kovind will then reach gate number 5 of the parliament house at 9:50 am. Afterwards, at 10:03 am, they will be received by the Lok Sabha speaker, Rajya Sabha chairman and the Supreme Court chief justice.
The Election Commission's (EC) message about the new President will be read out in the Central Hall at 10:11 am. The oath will be administered by the CJI at 10:14 am. Following which, Draupadi Murmu will sign the oath register at 10:18 am. With her approval, the home secretary will make the announcement. The new President will deliver her speech at 10:23 am.