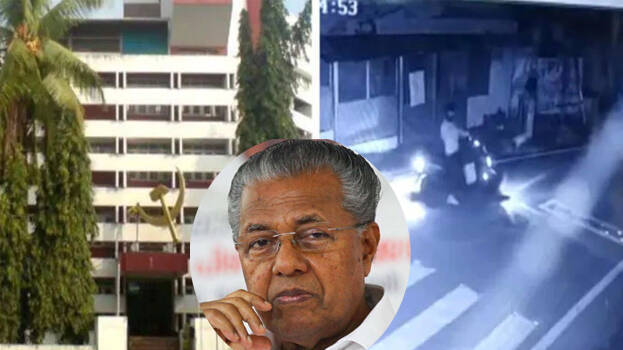 THIRUVANANTHAPURAM: Chief Minister Pinarayi Vijayan said that the investigation in the AKG Centre attack case was handed over to the Crime Branch due to the lack of suspects. The chief minister added that hopefully the accused can be found soon. The Chief Minister was responding to the media's question about the AKG Center attack at the press conference held on Tuesday.
The attack on AKG centre was an incident that pushed the government into a big crisis. So far, the police have not found any trace of the attack on the headquarters of the ruling party, which was guarded by the police. Even after three weeks of the attack, the police could not even find the people behind the incident or the accused, which ended up being a huge embarrassment for the Home Department under the Chief Minister himself.
On June 30, around 11.45 pm, an unknown person on a scooter threw an explosive at the AKG centre. The explosive device was hurled at the building guarded by the police after deceiving the security personnel. The CCTV footage of the incident was obtained immediately, but the accused could not be caught. By this time, the police have checked around 50 CCTV footages and around 1000 phone records.
At the same time, the preliminary assumption of the forensic experts is that materials such as firecrackers, which do not have high explosive potential, were used for the attack. No metal fragments or broken bottles were recovered from the scene. Forensic experts have so far only obtained traces of gunpowder. The initial conclusion is that the incident was carried out using an object similar to a local firecracker.