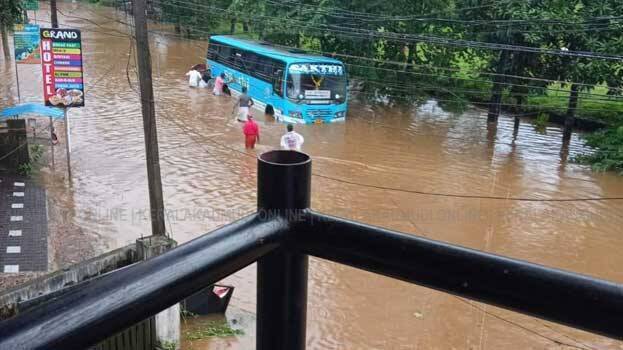 THIRUVANANTHAPURAM: As rain continues to batter the state for the third day in a row, arrangements to face the flood, have been speeded up. After the central water commission warned a possibility of floods in Kerala, the measures have been expedited.
A red alert has been issued in ten districts and seven dams in the wake of heavy rains lashing the state. Fishermen have been strictly prohibited from going to the sea. Red alert has been sounded in districts from Alappuzha to Kannur. Orange alert has been issued in Thiruvananthapuram, Kollam, Pathanamthitta and Kasaragod. The Meteorological Department has warned a possibility of heavy rain tomorrow also. A red alert has been issued in Ponmudi, Kallarkutty, Irattayar, Lower Periyar, Kundala, Moozhiyar and Peringalkuthu dams. Flood warning has been issued in three rivers. Warnings have been issued for Manimala, Neyyar and Karamana rivers.
Six deaths have been reported in the state today. Two including a two-and-a-half-year-old girl, died in a landslide at Peravoor in Kannur. The body of Numa Tasleem was found around 200 metres away from the house in Kannur. Other deaths were reported in Koottikal, Kothamangalam, Cheranallur and Vaikom. With this, the death toll has increased to twelve in three days. A search is on for the three missing people.
People in the hilly areas have been directed to be on alert in four places in Kannur. Loss of life and widespread damages were reported. Some colonies are found isolated. People are being shifted to relief camps. A search is on for the person trapped in the mud. There is a ban for pleasure trips to Nelliampathi, Parambikulam and other places till August 4. The restriction is following the red alert announced in the district. Travel to Attapadi is also prohibited.
49 relief camps have been opened in the state following heavy rains. 757 people were shifted to camps. People were shifted from 94 houses. 15 camps were opened in Kottayam alone. In Elur, Ernakulam, two camps have been opened in the area where around 100 houses are under water. Ten camps were opened in Pathanamthitta. Five camps have been started in Chalakudy. Meantime, the red alert has been withdrawn from Thiruvananthapuram as the rains subsided. One relief camp each in Vithura and Amburi has been opened. In the meanwhile, the Minister of Culture has announced that the Kerala State Film Award presentation ceremony to be held tomorrow at Nishagandhi in Thiruvananthapuram has been postponed due to heavy rains.