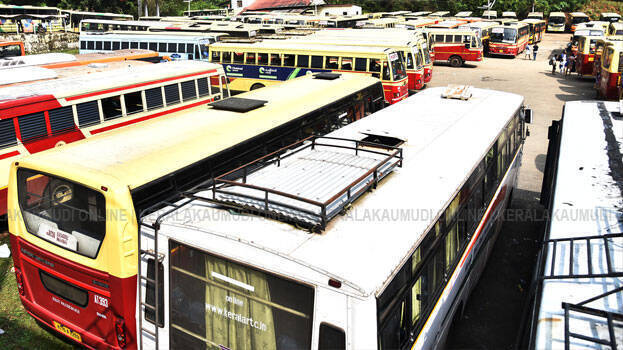 THIRUVANANTHAPURAM: The diesel supply has stopped in KSRTC after it began to pay salaries from its daily revenue. The diesel supply was in a crisis after the payment to the oil companies was stopped. A total of 250 bus services in the northern and central region were cancelled due to lack of fuel.
There has also been a shortage in daily revenue owing to the rains. A daily revenue of Rs 4.6 crore was gathered on Tuesday. The salary was paid from the daily revenue after Rs 50 crore, received as bank overdraft, got exhausted. The KSRTC has not paid the oil companies for the past three days. There is an arrear of around Rs 10 crore. The salary for the month of July has not yet been paid completely. The salary was distributed to the mechanical and ministerial employees district wise. However, salary is yet to be paid in two districts. After this, top officials also need to be paid salaries. Around Rs 10 crores are required to clear the arrears. The KSRTC had requested the government for Rs 20 crore as emergency assistance, but it was not granted.
The management has been suffering as they are not receiving the aid announced by the government. The state government was willing to grant Rs 30 crore per month for the loan repayment of the consortium. The management had also asked to raise the financial assistance to Rs 50 crore to overcome the financial crisis. The government had accepted the demand, but did not grant the required money. Earlier, Minister Antony Raju had announced that he would hold talks with the unions in the presence of the chief minister to finalize the rescue package. However, the meeting has not taken place even after one month.