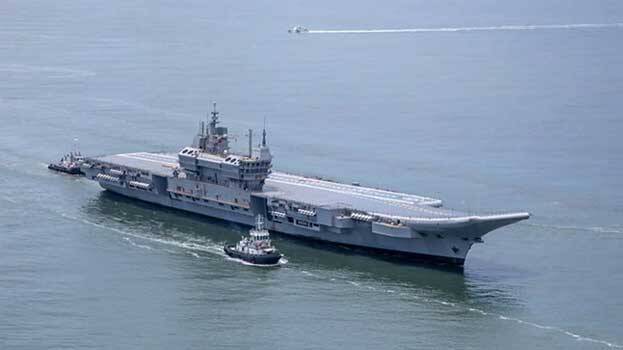 KOCHI: Prime Minister Narendra Modi formally commissioned India's first indigenous aircraft carrier 'Vikrant' built by Kochi Shipyard, making the country proud. Defence Minister Rajnath Singh, Shipping Minister Sarbananda Sonowal, Governor Arif Mohamad Khan, Chief Minister Pinarayi Vijayan, Ernakulam MP Hibi Eden, Navy Chief Admiral R Hari Kumar and top officials of Navy and Cochin Shipyard Limited (CSL) and many others attended the function.
After receiving the Guard of Honour, the Prime Minister unveiled the Navy's new flag ahead of its commissioning. The flag was released with the colonial seals completely removed. Addressing the function, Prime Minister Narendra Modi said the country is witnessing a new sunrise with the dedication of Vikrant. This is a powerful picture of a strong India. A symbol of the nation's commitment.

This is a proud moment. Vikrant proved that no goal is impossible. It is the country's answer to maritime challenges. Through Vikrant, the country came before the world. Gain for the nation from the holy land of Kerala. The world needs a strong India. A strong India will guide a safe world. The Navy has increased strength and courage. A strong navy would help increase sea trade.

Prime Minister said Vikrant Atma Nirbhar is a symbol of India. A seal of India in the new century. He suggested that all citizens should stand for indigenous products and thanked the workers and engineers behind Vikrant.

Defense Minister Rajnath Singh said that INS Vikrant is a symbol of self-sufficiency. He added that Vikrant will be an asset to the country. Chief of Naval Staff Admiral R Harikumar said that Vikrant is a proud achievement.