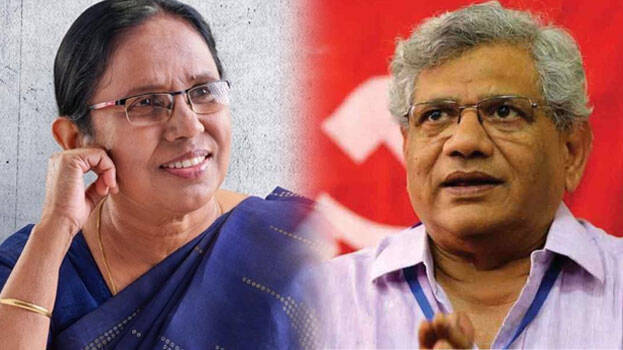 NEW DELHI: CPM General Secretary Sitaram Yechury said former health minister K K Shailaja rejected the Magsaysay award following the directive of the party. Yechury said political leaders are usually not considered for the Magsaysay award.

'Covid resistance is a collective action of the government. Shailaja was considered for the award as an individual. It was Shailaja who informed not to accept the award. This award is not usually given to political leaders. Magsaysay was a person who did anti-communist activities. The party considered this matter also,' said Yechury.

Shailaja was conferred the 64th Magsaysay Award for her commitment and service during the outbreak of Nipah and Covid in Kerala. Her performance had won global recognition.

Shailaja was informed about the Magsaysay Foundation Award in July end. She was asked to inform in writing via email her willingness to accept the award. She informed the organizing committee that she could not accept the award.

Shailaja is the first Malayali to be considered for the Magsaysay Award, known as Asia's Nobel Prize. The award was initiated in 1957 by Rockefeller Brothers Fund grant. This award, named after former Philippine President Ramon Magsaysay, is given to those who do outstanding work in the community.