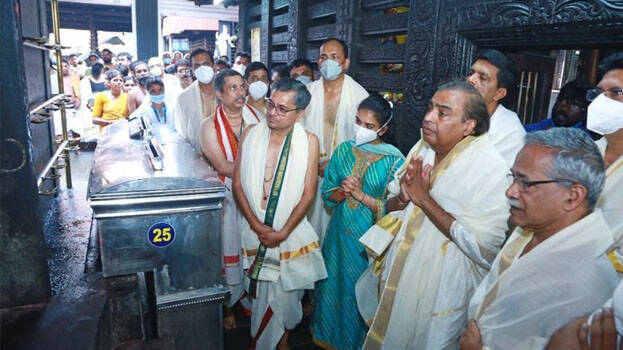 THRISSUR: Reliance Industries Chairman Mukesh Ambani visited Guruvayur temple on Saturday at 5 pm. Ambani was accompanied by his younger son Anand's fiance Radhika Merchant and Reliance director Manoj Modi. He spent around 20 minutes in the temple and handed over a cheque of Rs 1.51 crore as an offering to the Annadan fund.
Devaswom Chairman Dr V K Vijayan, Managing Committee members C Manoj, Chengara Surendran, Adv. K V Mohana Krishnan, Administrator K P Vinayan and Devaswom staff members received him. After reaching the temple, Ambani offered ghee to the lamp near Namaskaramandapam and offered his prayers.
Mukesh Ambani said that he would consider providing assistance to the Guruvayur Devaswom Multi Specialty Hospital. He gave the response as a reply to the request made by the Devaswom Chairman seeking help for the project. V K Vjayan also presented a memento from Devaswom to the business tycoon.