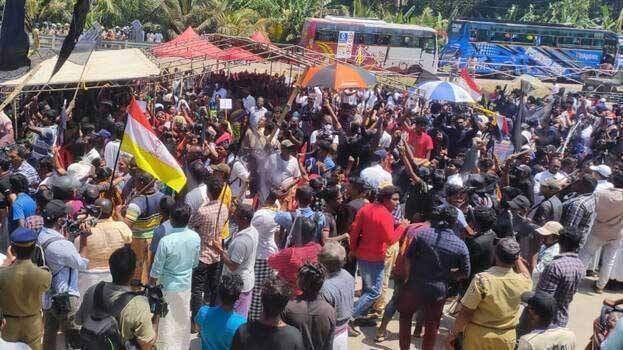 THIRUVANANTHAPURAM: The Thiruvananthapuram Latin Archdiocese is all set to intensify more the Vizhinjam harbour strike. A mass march will be held to the port gate today under the leadership of the church as part of it. The march will start today at 3 pm at the port. The Janabodhana Yatra, which started from Moolampilly expressing solidarity with the strike, will reach Thiruvananthapuram today.
The first reception for Janabodhana Yatra was at 8 am. New ways are being sought to intensify the protest after 61 days of the strike. The church stated that the pastoral letters will be read in churches for the fourth consecutive on Sunday.
Meantime, some liquor shops in Thiruvananthapuram will remain closed today due to the possibility of conflict in the wake of the strike. District collector Jeromic George had ordered measures the other day eyeing the possibility of conflict. The collector has informed that liquor shops in areas like Vizhinjam, Kovalam, Balaramapuram, Thiruvallam and Kanjiramkulam will remain closed. The release stated that the ban is based on the assessment that the Janabhodana Yatra of Christian organizations and the bike rally organized by local residents against it may cause law and order problems.
In the meanwhile, the strike committee has announced that they will start a 24-hour hunger strike from tomorrow. A strike will begin under the leadership of Fishermen's Union at Kochi Port on September 21. Strike will be held at other ports as well.