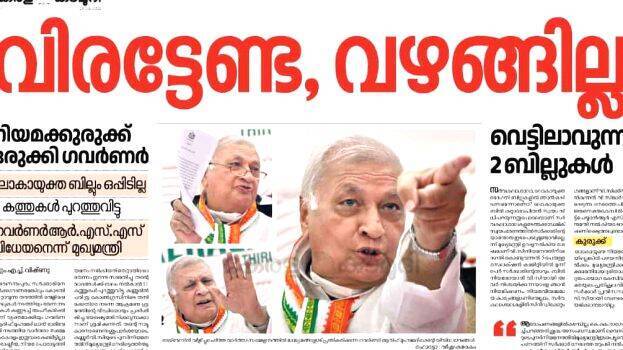 THIRUVANANTHAPURAM: As reported by 'Kerala Kaumudi' yesterday, the unusual press conference called by Governor Arif Mohammad Khan seems to be paving the way for a legal tangle for the state government. A plea will be filed in Thiruvananthapuram Vigilance Court on the governor's disclosure that the CM had asked him to re-appoint Kannur Vice Chancellor Dr Gopinath Ravindran. The plea, which is being prepared by an organization in Thiruvananthapuram, demands that a case be filed against the Chief Minister for nepotism.
According to the rules of the Centre, the governor, who is the appointing authority of the chief minister, has to give permission to file a case. With this, the reins of battle with the government will once again be in the hands of the governor.
The governor had also released the letters sent by the Chief Minister on December 8 and 16, 2021, demanding the reappointment of Gopinath Ravindran. These are the main pieces of evidence in the petition. Legal sources say that the governor cannot refuse to grant permission. The governor, who is protected from legal proceedings, cannot be made a witness. If the governor sanctions the case, the chief minister will have to face a vigilance probe under his own department. In 2011, Oommen Chandy resigned from the Home Ministry after a court ordered him to face a vigilance investigation in the palm oil case.
Within limits of Vigilance
Corruption, nepotism, abuse of office, actions with a vested interest to benefit oneself or others