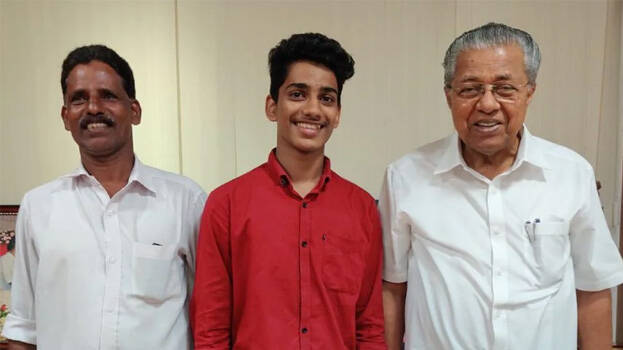 THIRUVANANTHAPURAM: Chief Minister Pinarayi Vijayan called the 16-year-old boy who fled from home to meet him. A plus one student from Kuttiadi Kakkuni fled to meet the chief minister. Devanandan, a native of Kuttyadi Velam Panchayat, boarded the Eranad Express from Vadakara yesterday morning and reached Thiruvananthapuram around 9 pm.

He caught an auto from Thampanoor and reached Devaswom Board Junction where Cliff House is located and told the policemen in charge of security that he wants to meet the chief minister. The suspicious police took the boy to the museum police station. The police bought him food for the night and then informed his father Tharkandi Rajeev that his son is safe. Their message was a relief to them.

Rajeevan reached the museum station in the morning. After saying that he had come to see the chief minister, the police informed the authorities in the morning. The chief minister who heard about it summoned Devanandan and his father Rajeev to the chamber. Devanandan's complaint was that the family had taken a loan from a private money-lending institution on interest and now they are harassing them for default of money.

The chief minister heard them patiently and advised him with love for traveling without telling his family. After instructing him not to go anywhere without informing his family, they were sent away. The chief minister directed to see if the government can do anything about the complaint raised by Devanandan. He was happy as the chief minister paid heed to his complaint. He is a plus one humanities student of Avala Higher Secondary School.