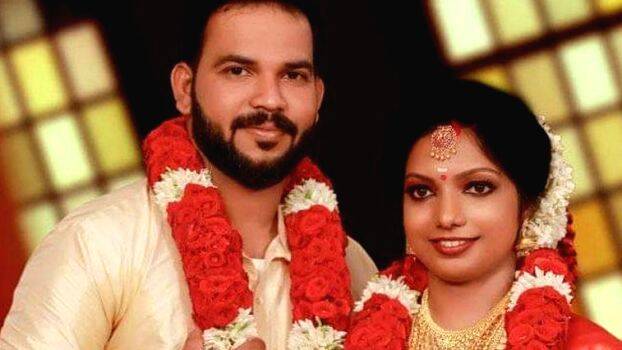 KOLLAM: A man has been arrested after his wife was found dead at his house in Chadayamangalam. Harikrishnan (34) alias Kishore, of Puthen Veedu in Aakkonam's Plavila, was arrested. The arrest was made in connection with the death of Lakshmi (25), daughter of late Mohan and Rema, residing at Vaishnam in Adoor's Pazhakulam. Harikrishnan has been charged with abetment of suicide.
Lakshmi and Harikrishnan got married a year ago.
A month later, Harikrishnan went abroad. He returned last Tuesday. Lakshmi was found hanging on that day. Harikrishnan reached home around 11.45 am. Harikrishnan called Lakshmi's mother saying that Lakshmi is not opening the door despite calling her repeatedly. Her mother also called her but there was no response. Thee door was then kicked open, and Lakshmi was found dead.
However, the relatives of Lakshmi had alleged that there is mystery in Lakshmi's death. Lakshmi's mother said that when she reached home after Harikrishnan called, all of Harikrishnan's relatives were there and when they asked to move the body after the arrival of relatives from Adoor, the family did not listen. Harikrishnan's mother and sisters lived in this house.
Harikrishnan was arrested following the investigation. Lakshmi's body was cremated at Pazhakulam in Adoor after a post-mortem was conducted at the Medical College Hospital.
According to the police, on the 17th and 18th of this month, Harikrishnan and Lakshmi had an argument over the phone. After this, Harikrishnan did not pick up the phone even though Lakshmi called him continuously. Later he blocked the number. Chadayamangalam police said that Harikrishnan may have felt that Lakshmi might have committed suicide when she did not open the door after reaching home. That is why he kicked open the door after waiting for three hours until Lakshmi's mother came from Adoor. Lakshmi was married off with a huge amount of money and gold as dowry. A large part of this was pledged. The two may have quarreled over this. Lakshmi lived with Harikrishnan's aunts in the house at Chatayamangalam. Lakshmi also stayed and studied at an aunt's house in Anchalummoodu. The police said that the gold was pawned in a bank in Anchalummoodu.