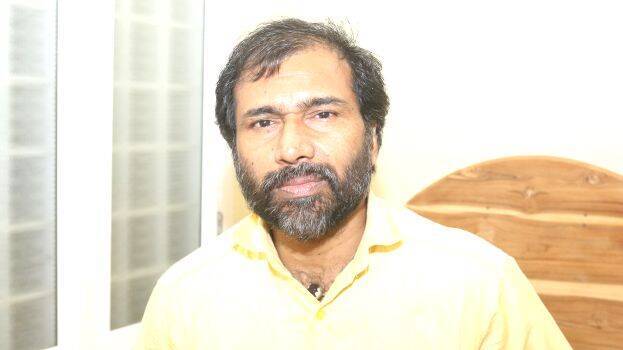 16 years ago, Selvan was 32 years old when got paralysed below the waist after accidentally falling from a coconut tree while toddy tapping. Yet, he did not give up before fate. Today, Selvan is able to support his family by making and selling decorative nettippattom (ornament used to decorate temple Elephants). He was not ready to accept defeat before fate even though he was unable to sit up without help. Although he initially tried seed pen, umbrella making, glass painting etc. he got only a meagre income.
It was Selvan's friend Vignesh, a native of Paramekkavu in Thrissur, who trained him in the making of nettippattom through video call. That gave Selvan confidence. He got the materials delivered by courier. For the last six years, Selvan and his family members are living with the money he earned by making nettippattom.
In the beginning, Selvan used to make nettippattom sitting on the bed with help. However, he was unable to sit for long periods of time due to excruciating back pain. Later, he started making nettippattom lying on the bed. He has constant support from his wife Sarita and son Arun, a Plus One student.
Making
Priced from 2500 to 12500 rupees
Size from two feet to six feet
It takes up to 5 days to make a 6 feet nettippattom