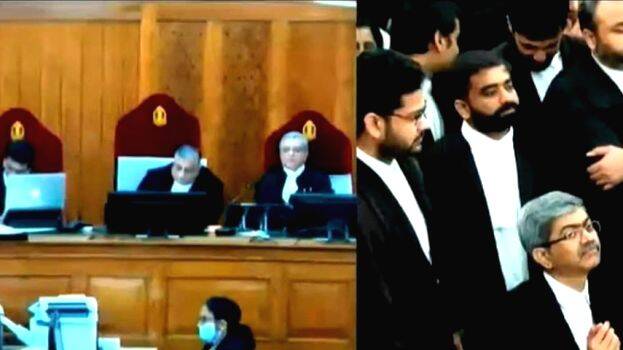 Court proceedings in India have entered a new era with the first-ever live telecast of the hearing of the Supreme Court. We can hope that hearings and other proceedings of all High Courts will be available to the public live in due course of time. The live telecast of the Supreme Court proceedings has paved the way for transparency not to be limited to words but also actions.
The cases that were telecasted live were a case on the financial reservation heard by a bench headed by Chief Justice UU Lalit, a case on the power struggle in Maharashtra Assembly and Shiv Sena heard by a bench headed by Justice DY Chandrachud and a bar council examination case heard by a bench headed by Justice Sanjay Kishan Kaul. The hearings, which were broadcast live on YouTube at 10.30 am on September 27 through the channel NIC webcast, were watched by more than seven lakh people by 1 pm. The fact that so many people watched it is proof of how much people want to know. Although the process of speeding up court proceedings with the help of technology started even before the covid era, it was slow. Veterans in the legal community also generally viewed the advent of technology with reluctance. However, the arrival of Covid changed everything. Technology has made it possible for the lawyer to appear for the case even without coming to court, and for the magistrate to take action without having to produce the accused in person. The covid era also served to demonstrate that technology can play a major role in speeding up court proceedings that normally drag on. But the demand to telecast the proceedings of the Supreme Court in real time was made long before the Covid era.
Senior advocate Indira Jaising was the first to approach the Supreme Court demanding a live telecast. On September 28, 2017, then Chief Justice Dipak Misra signed the landmark order to allow live telecast with the introductory statement, 'Sunlight is the best disinfectant'. After four years, the Supreme Court Committees discussed and started live streaming from September 27. The Chief Justice has informed that a special system will be introduced soon for live broadcasting of the Supreme Court proceedings. By making this a model, central and state governments can also show the people in real-time the decisions and proceedings of high-level meetings, except those affecting national security. In these changing times, new measures like these are needed to strengthen the bonds of democracy.