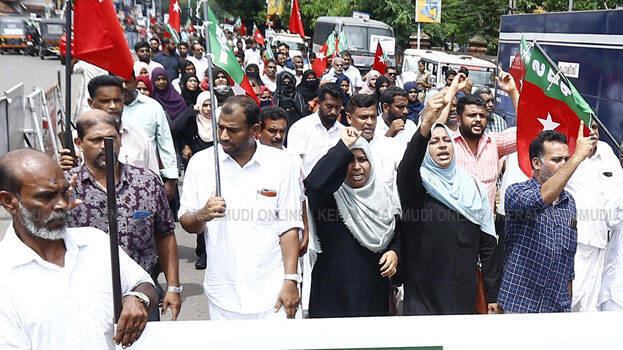 The Union Home Ministry banned the controversial Islamist outfit Popular Front of India (PFI) and eight affiliates for five years following nationwide raids and arrests of its leaders for alleged terror links. As the action is under UAPA, the arrested leaders and workers will not get bail immediately. The ban has come into effect.
State general secretary Abdul Sattar (51), the third accused in the NIA case against the Popular Front in Kerala, was taken into custody by the Karunagappally police from the PFI divisional office in Puthikavu and handed over to the NIA. Abdul Sattar via Facebook had informed that he accepts the ban and has disbanded the organization.

The Ministry of Home Affairs had in the ban order pointed that the Popular Front and the feeder organizations pose a threat to the integrity, sovereignty and security of the country and have links with international terrorist groups. The recommendation of Uttar Pradesh, Karnataka and Gujarat governments to ban the organisation was also considered. There is no ban for SDPI, the political wing of PFI. The Center will forward the ban notification to the UAPA tribunal headed by a sitting judge of the Delhi High Court within thirty days. The Tribunal will take a decision after hearing the arguments of the PFI.
Nine reasons
1) Communal Polarization agenda destroying democracy
2) Disrespect towards constitutional authority of the country
3) Terrorist activity that threatens the integrity, sovereignty, security and communal harmony of the country
4) Some of the founders of PFI led the banned SIMI
5) Links with international terrorist organizations including ISIS. Some participated in terrorist activities in Syria, Iraq and Afghanistan
6) Nurturing communal insecurity in the country along with terrorist groups
7) Tried to disrupt law and order and create a reign of terror in society
8) Chopped the palm of Prof T J Joseph in in Kerala. Abhimanyu of Ernakulam Maharajas was murdered. RSS workers Sanjith from Palakkad, Nandu Krishna from Alappuzha and Bipin Das from Tirur were killed
9) Hawala funds were used for terrorist activities. Future operation of SDPI may continue but likely to be banned. The Central Election Commission has to take a decision. The notification has to be issued by the Union Ministry of Law
If banned
The governance of some local bodies functioning with the support of SDPI in Kerala, will hung in balance.