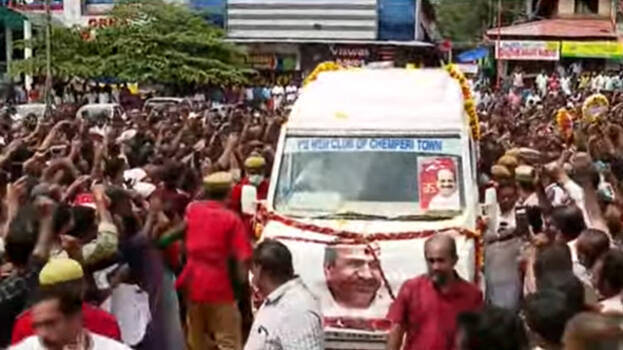 KANNUR: Tens of thousands including women are waiting to pay their last respects to the procession carrying the body of CPM politburo member and former party state secretary Kodiyeri Balakrishnan (68).
Senior leaders including Chief Minister Pinarayi Vijayan and politburo member M A Baby received the body brought in an air ambulance from Chennai. Thousands of CPM party workers had arrived in the airport. They received the leader's body shouting slogans.
The air ambulance left Chennai airport at 11.22 am. His wife Vinodini, son Bineesh and daughter-in-law Rinita accompanied the body in the air ambulance. His body will be kept in Thalassery the whole day today for the people to pay homage. A hartal will be observed in Thalassery, Dharmadom and Kannur constituencies as a mark of respect. He will be laid to rest at the memorial tombs of his leaders at Payyambalam beach in Thalassery. He will be cremated tomorrow evening at 3 pm. Senior leaders including CPM general secretary Sitaram Yechury and Prakash Karat will attend his funeral.