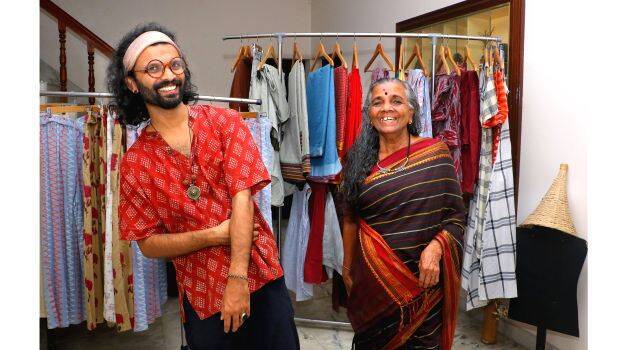 KOCHI: Fashion designer Rajeev Peethambaran, a native of Harippad, is introducing his designs in sarees to the world through his mother. Rajeev chose his mother Ramani as a model, defying the perception that women with star-value are needed to introduce new designs. The son thus introduced his 70-year-old mother as a model into the fashion world.
Rajeev started working with many companies and designers after his higher education at the age of 23. He started free lancing in 2018 and had decided since then that his mother would be the model. Both of them moved to Kochi in 2012 after his father's death.
The pictures shared by Rajeev on Instagram received a lot of likes. He is planning to experiment by dressing his mother in other attires. The sale of the sarees is through online and fashion stores.
Mother in movies
Ramani, Rajeev's mother has also acted in movies 'Trance' and 'Bhoothakalam'. Rajeev has also worked as associate of Eka Lakhani, costume designer of Mani Ratnam movies. He has also designed clothes for dramas including famous playwright Professor Chandradas' Malayalam play. Rajeev has worked in various companies in Mumbai, Bengaluru and Chennai and was active in the field of costume designing.
Cotton only
His designs are made in Pochampally handloom and kala cotton. The designs will be prepared and sent to the garment factory in Pochampally, Telangana. They will send it after manufacturing. The price ranges from Rs 1,000 to 6,000.
Cyanotype expert
Rajeev is also good at cyanotype printing, where designs are made on cloth. It is a process using dark room and sunlight. It is more popular abroad.
Rajeev by choosing his mother as a model aims to change the existing norms in modelling. Ramani says that she is happy in supporting her son's wishes.