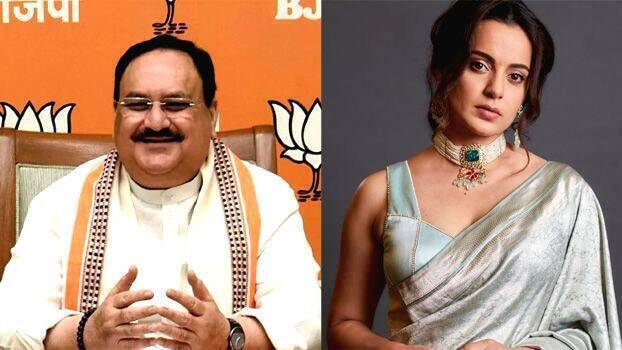 NEW DELHI: BJP National President JP Nadda has welcomed Bollywood actress Kangana Ranaut to the party. He was responding to the actress's statement that she is ready to contest in the upcoming Himachal Pradesh elections from her native land if given BJP ticket. JP Nadda, who welcomed the actress to the party, did not give any assurance of giving her a seat in the election.
"Kangana Ranaut is welcome to join the party. There is ample space for anyone who wants to work with the party. But as far as contesting the polls are concerned, it is not my decision alone. There is a consultation process right from the grassroots level to the election committee to the parliamentary board," JP Nadda said.
"Everyone is welcome to join the BJP. But in what capacity, the party decides. We don't take anyone based on conditions. We tell everyone, you have to come unconditionally and only then is the party going to decide," he added.
Bollywood star Kangana Ranaut has said that she is ready to contest elections from Himachal if the BJP gives her a ticket. The actress announced her willingness to enter politics while participating in the 'Panchayat Aaj Tak Himachal Pradesh' program in Shimla ahead of the assembly elections in Himachal Pradesh. During the program, Kangana said that she will not hesitate to seek a mandate from Mandi if the people want her to contest. Mandi is one of the four Lok Sabha constituencies in Himachal Pradesh. She has praised PM Modi in her speech and said that freebies offered by AAP would not help in Himachal as people are full of integrity.