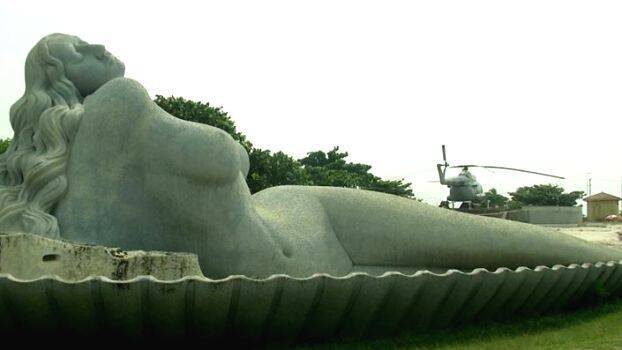 THIRUVANANTHAPURAM: When sculpturer Kanayi Kunhiraman returned to his famous sculpture 'Sagarakanyaka' or the mermaid at Shankumugham, his eyes were filled with tears. He looked at his recently received Guinness World Record and his sculpture and his eyes got stuck on a helicopter placed just a small distance away. It made him uneasy.
The Guinness World Record was received without requesting for it. The record was awarded to Kunhiraman for making the biggest statue of a mermaid in the world. However, the old Navy's helicopter has ruined the background beauty of the Sagarakanyaka. Kunhiraman had requested the government many times to remove the helicopter.
Kanayi Kunhiraman had declined the state government's Kerala Sri Award in protest against the government for not hearing his requests.
During 1990, when he was building the sculpture the District Collector had ordered him to stop it citing obscenity. However, he feels more distress now at the left government's neglect of his requests. In the 90s the then Chief Minister, K Karunakaran had corrected the Collector and Kunhiraman was allowed to continue with his sculpture.
The helicopter was place there in May, 2020. As it was a period of Covid not many noticed it at the time. Kerala Kaumudi had reported that the placing of the helicopter has ruined the view of the Sagarakanyaka. Following the protests in the cultural circles of the state the then Tourism Minister, Kadakampally Surendran and Kunhiraman went to Shankumugham.
It was decided that the helicopter would be transferred to the children's park and an appropriate sculpture would be made at the spot where the helicopter is placed now. But no follow up actions were done.
The Cultural Minister, VN Vasavan, said that the complaints of Kanayi Kunhiraman would be heard and action will be taken after that. He added that the government has great respect for the sculpturer.