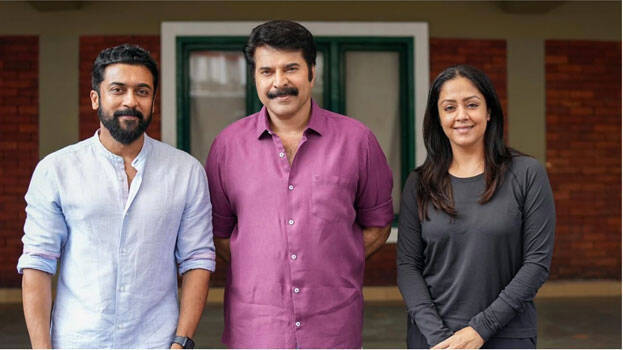 'Kaathal-The Core' is a film directed by Jeo Baby starring Mammootty as the lead actor. South Indian star Jyothika is playing Mammootty's heroine in the film. The shooting of the film is progressing in and around Kolenchery. Recently, a surprise visitor visited the movie's set at Kolenchery Brookside Club. It was none other than South Indian star Surya, who is also the husband of Jyothika. Pictures and videos of Suriya visiting the location and meeting the actors have gone viral on social media. The actor went back after spending a lot of time with Mammootty, Jyothika and the crew of the film.
Many have shared the pictures on their social media pages with the caption 'Nadippin Nayakan Nayakan with Megastar'. Mammootty will be appearing as Mathew Devassy in the film. The actor's pictures from the sets had recently gone viral on social media.
'Kathal- The Core' is produced by Mammootty's production house MammoottyKampany. Lalu Alex, Muthumani, Chinnu Chandini, Sudhi Kozhikode, Anagha Akku, Josie Sijo and Adarsh ​​Sukumaran will be essaying other important roles. The film is written by Adarsh ​​Sukumaran and Paulson Skaria.