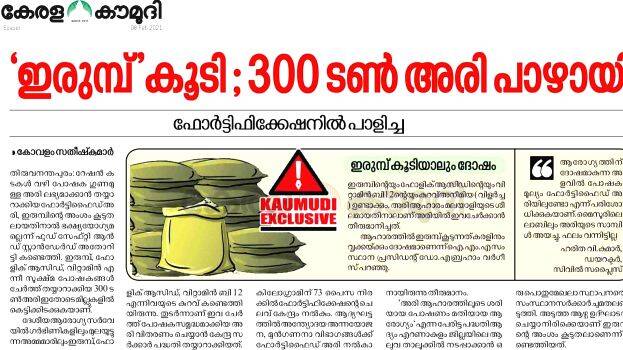 THIRUVANANTHAPURAM: The decision to distribute artificially created fortified rice (nutrition abundant rice) will be done only after the expert group appointed by health department submits its study report.
The central government had decided to spread the distribution of fortified rice nation wide in by April. It is under this circumstances that the Food Minister, GR Anil, sought expert advice from the Health Department.
The state government's assessment is that as the Matta rice distributed by the state has enough nutrients, more nutrition is not needed. In January 2021, Aluva Taluk was selected for the program implementation in the state on an experimental basis. At that time the Food Safety and Standard Authority found that fortified rice had large amounts of iron and thus was not good for consumption.
This was reported by Kerala Kaumudi on February 8, 2021. It was later implemented on an experiment basis in Wayanad.
Those with sickle cell anaemia and thalassaemia have higher iron content in their blood. Giving them more iron through fortified rice will lead to health issues. These diseases are more common in tribal areas.
The central government says that fortified rice is good for those having low growth, anaemia, and other diseases caused by deficiency of Vitamin B. It is the lack of the awareness about fortified rice that people do not understand its benefits.